Meditation is a fascinating topic and most of us nowadays want to adopt this practice. It's a good thing to indulge such habits and practice but the point is why we wanna do it? Is it just because there is a lot of fuzz about it nowadays or you want to bring some changes in yourself.
So I got introduced to Meditation practice by my parents around 2 years back. However, I actually felt an inclination to it a year back only.
Can any work done with focus could be meditation?
Some of my friends and family asked me some time, I do study with great focus or I work in my office with huge concentration, that is a meditation for me. Why do I need to sit with my eyes closed to do meditation?
Certainly, they have a point, this is what most of us think when talking about meditation. I m not some highly experienced professional in this field to answer this question, however, this is my answer to it-
Yes, doing your studies, your office work is a focused task and it may be a meditation for you. But the difference in both lies in the object of focus.
The importance of Object of focus?
I have read this book called 'The heartfulness way' and the author explained this situation in a very practical example. He quoted- If a child studies with great focus, his mother would be very happy. But when the same child applies the same focus on playing video games, she will turn into a furious mother.
The child is focused in both cases, right? So what makes her worried?? She is worried because the object of focus is different and hence the result of both activities as well.
The same way, focusing on an object in the outside world will result in different outcomes, and focusing on an object inside or your inner-self will result in different outcomes.
Does meditation need a lot of concentration?
Yes, initially you might need to put an extra effort to concentrate on your heart or any part of your body where you want to bring focus to. But as you keep practicing it should be an effortless focus. Have you ever thought, while watching a movie or enjoying a holiday at your favorite destination, you never have to concentrate to enjoy it?
The reason is that your heart loves doing it or it has an inclination towards that activity. By regular practicing meditation, the day your inclination will turn towards it, it will also become an effortless focus.
Here is a diagram through which was Author of book- The heart fullness way explained different states achieved by wrong and correct combinations of Focus and Effort.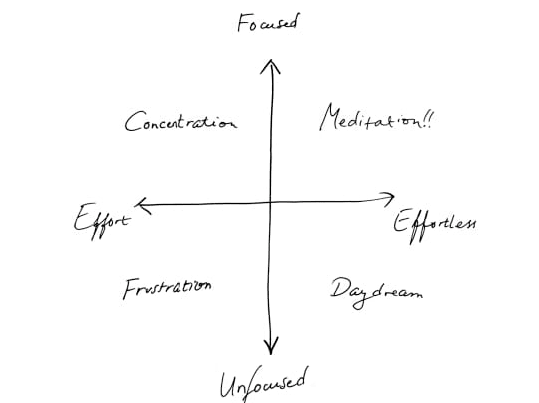 How much meditation do I practice and what is it means for me?
As I mentioned earlier, I felt an inclination to doing meditation a year back. While I was going through some inner turmoil, one day I decided to sit for meditation and that was the day and today, I still practice it at least once in a day.
How I do meditation?
I sit quietly at the same place every day, close my eyes, and bring the focus on my heart. Initially, I had to put the alarm for 10-15 mins but as time passed by, I no more need a clock.
Will not my own thoughts bother me when meditating?
It wasn't easy for me to sit quietly with eyes closed for 5 mins also because our mind is a monkey that keeps jumping from one thought to another. And here lies the answer to why we actually do meditation. We can not expect our mind to stop generating the thoughts till we are alive, because that's what the function of the brain, right?
We need to train our minds to focus on what's important at that moment and ignore the rest going around. At that moment, let the thoughts come and pass, just like they pass UN-noticed when we are busy working eyes opened.
How meditation impacted my life?
1. Worked upon my weakness
For me, meditation is facing my own-self – my unconscious mind. None of us wants to work upon our weaknesses or bring change in ourselves. We always have a huge list of things other people should change but a blank list of what I should change. Meditation helps me look into my weakness and changes that I must bring in myself
2. Started working for my Goals diligently
Each one of us, including me, want to do a lot of things in our lives. Apparently we end up doing very little, the reason being we don't have time to even recall our own goals. Each morning when I sit for meditation, I feed a list of my goals to my UN-conscious mind, all I have to do is to think about them.
Sitting in meditation is like sitting in front of a mirror. Each time I close my eyes and bring focus to my heart, I answer to my own consciousness about How I am doing with life? Am I working upon my goals towards my improvement and success? Have I taken a step towards bringing change in myself?
If each one of us stops fixing others but ourselves first, the world will be definitely a beautiful place to live in. Let's bring some focus to work upon our souls and not just our bodies in the Gym. Just as we exercise to improve our physical body, let's do something to work upon our inner-self too.
**Follow me on Facebook, Instagram, youtube, and check out my tripoto profile
Do tell me in the comment section, if you find these thoughts helpful. Also, share when you started meditating and how it helped you.